Do You Know Your Credit Score?
See Your FREE TransUnion Credit Score Online Now!
Always know your Credit Score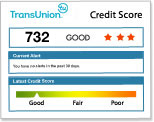 Do you know why your Credit Score is Important?
Get Credit Approval
Apply for a Mortgage
Buy a New Car
Prevent Identity Theft
Track your Credit Score when it changes
Your Credit Score can change every 30 days. Make sure you are up-to-date today.

OFFER DETAILS: Your FREE TransUnion Credit Score & $1 Credit Report are available as part of a 7-day trial of our subscription-based credit monitoring service. You may cancel at any time during the trial period. At the end of your 7-day trial, you will be billed at the low cost of only $19.95 per month (plus tax for NY and PA residents).
Special Offer Includes:
Unlimited Access to your TransUnion Credit Report and Score
Email alerts for critical changes to your Credit Report
Up to $1,000,000 ID Theft Insurance
A Good Score is above 732

What's your Score?
VantageScore credit score by TransUnion ranges from 300-850. Generally, the higher your score, the better the interest rates you'll be able to qualify for. Each TransUnion Score report will also include detailed explanations, 24/7 email updates of critical changes to your credit, personalized Debt Analysis and Credit Trending.